The coronavirus outbreak is first and foremost a human tragedy, affecting hundreds of thousands of people. It is also having a growing impact on the global economy. Since the beginning of the year, search interest in COVID-19 has continued to climb around the world. Right now the disease is the largest topic people are looking for globally, surpassing even some of the most common and consistent queries we see in Google Search.


COVID-19 situation is very volatile and its implications on businesses are changing rapidly.  What ways can our brand be helpful to people and businesses in this moment of need?


Consumers are on the lookout for the latest developments on COVID-19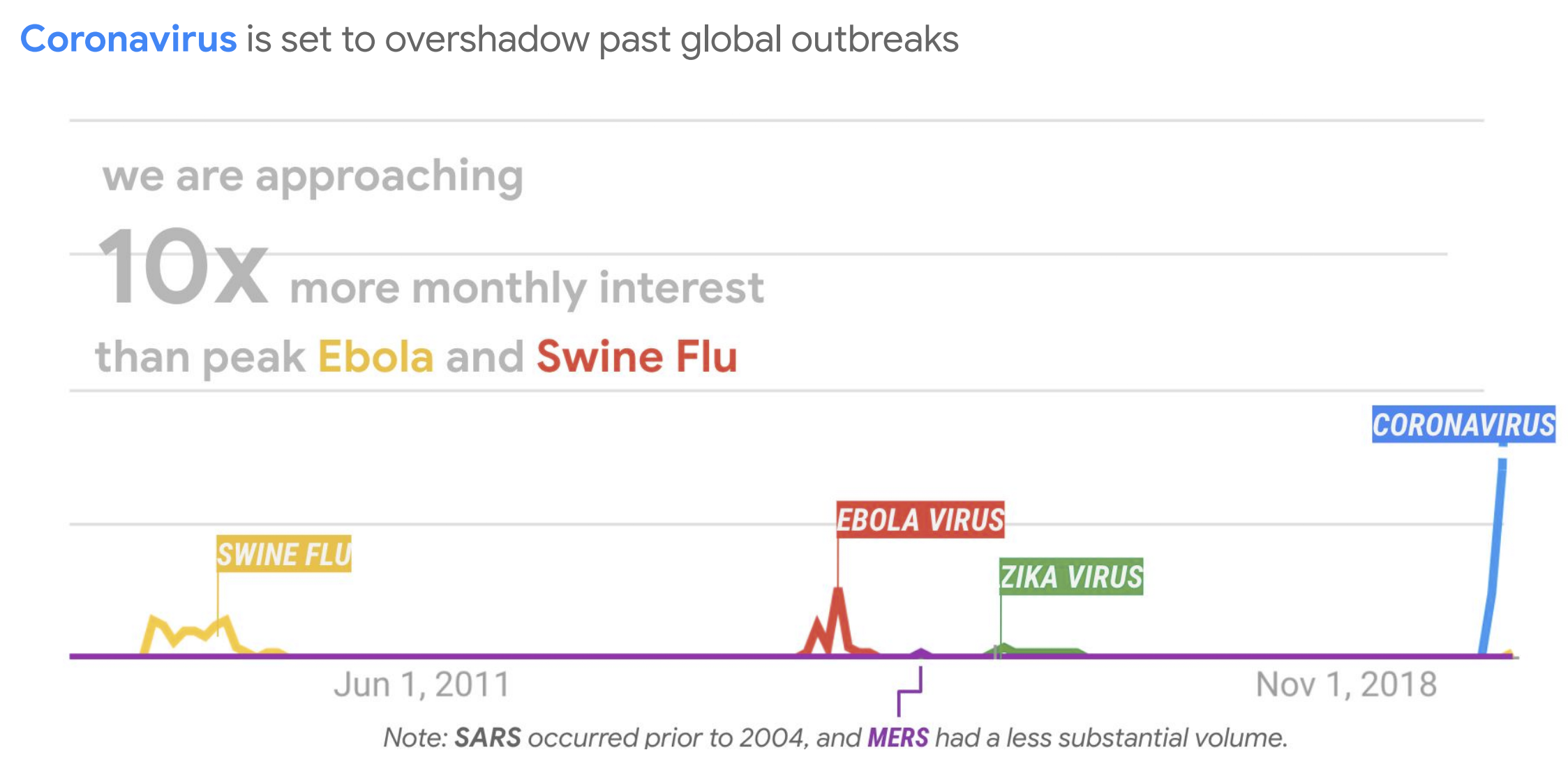 Source : Google Trends (March 2020)


Related concerns are evolving

Volumes of searches for Surgical Masks have shifted to Respirator Masks (n95). While interest in hand washing is rising, we also are yielding 5x more interest in Hand Sanitizer.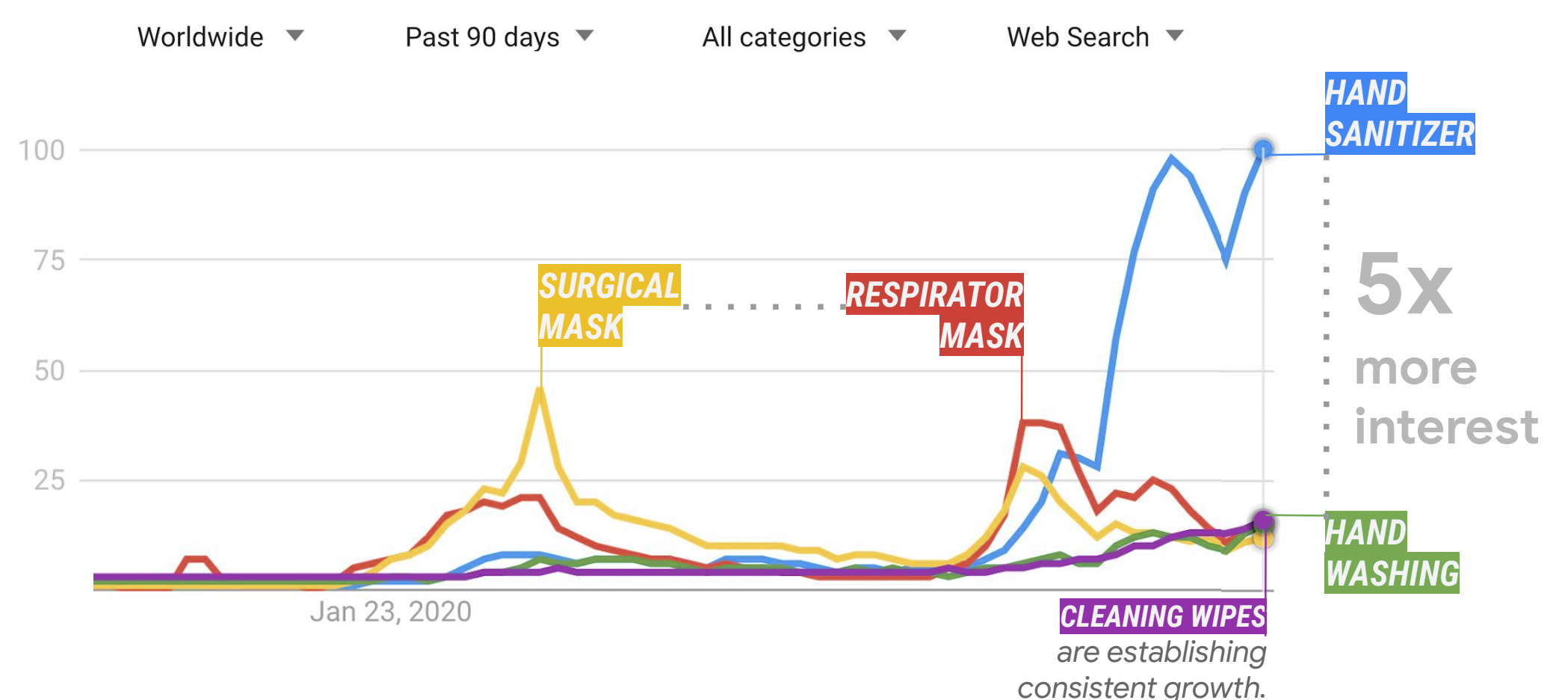 Source : Google Trends (March 2020)

Query volume shifts by category for Search, Maps and YouTube

Health, Finance and Government are top 3 category searches. Money, Health are growing fast.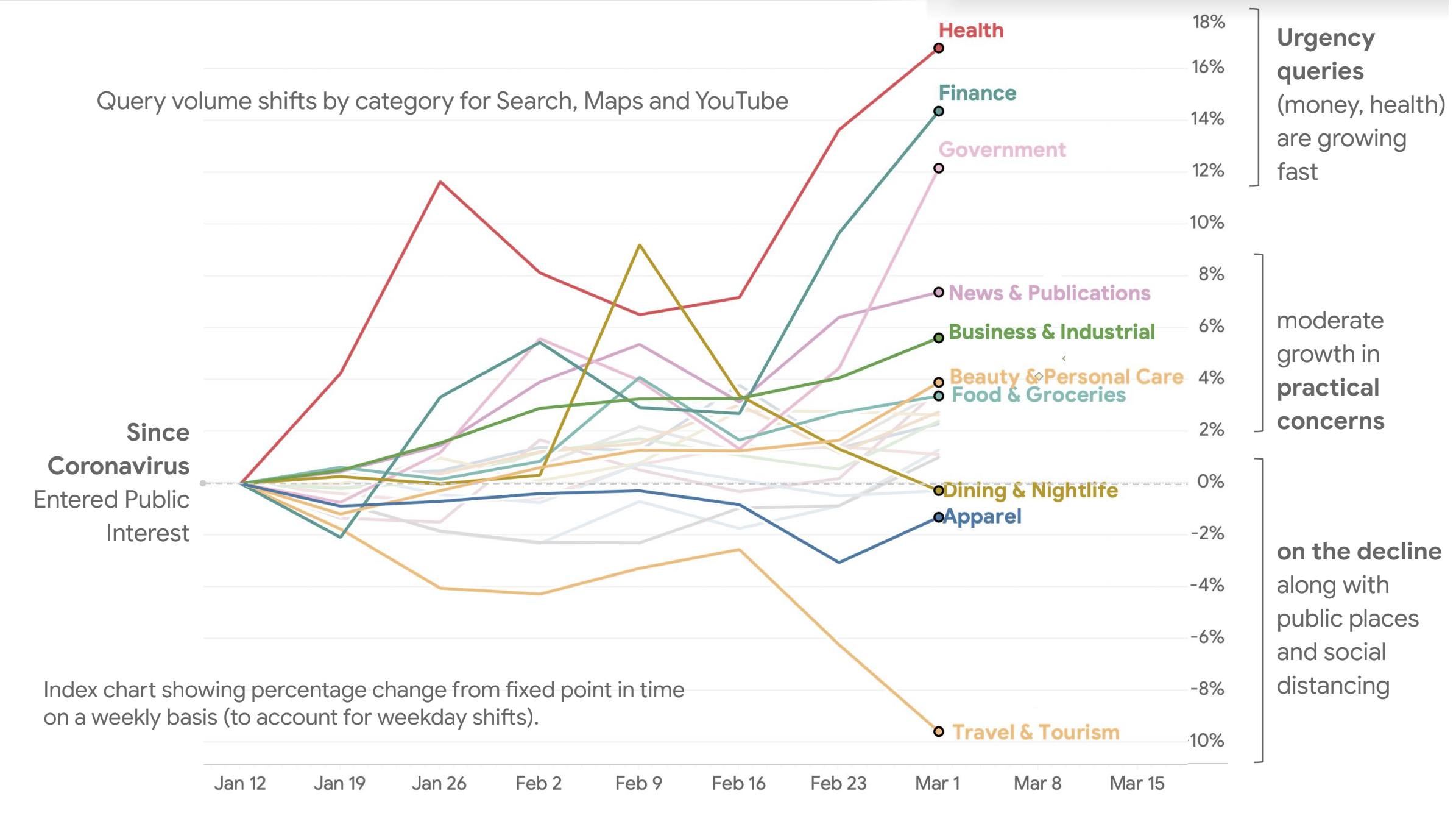 Source : Google Trends
Based on Search Data from Google Search US related to Corona Virus (Covid-19). there are top 3 main search themes :
1. About Corona Virus – Information about the virus and its symptoms
2. Affected Areas – Global news about outbreaks, locations
3. What to Do – Looking for latest news and health updates.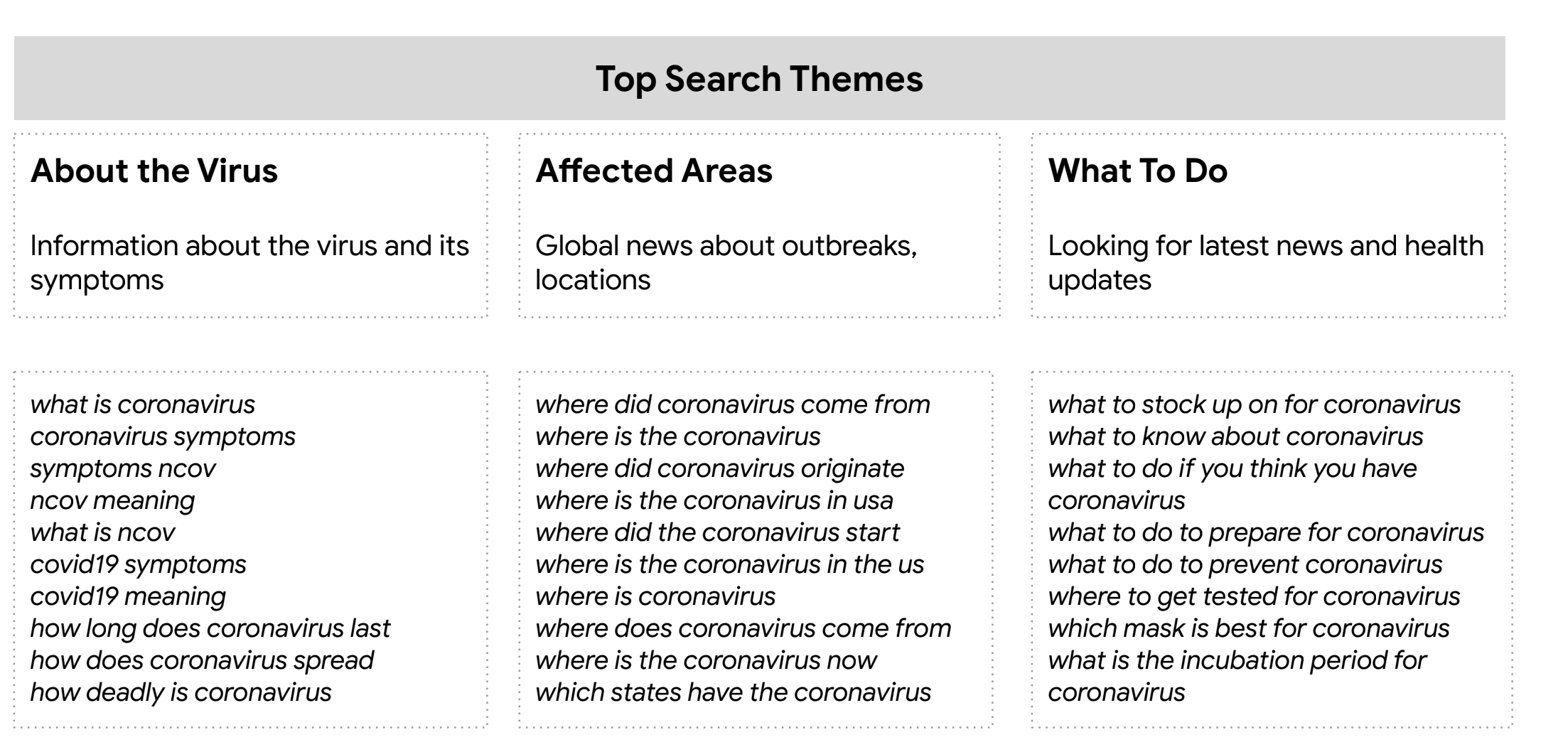 Source : Google Trends (March 2020)

Google searches also show a significant month-over-month rise in preparing for extended

periods at-home


Cleansing and protective products are rising among Beauty & Home Care Searches in the past 4 weeks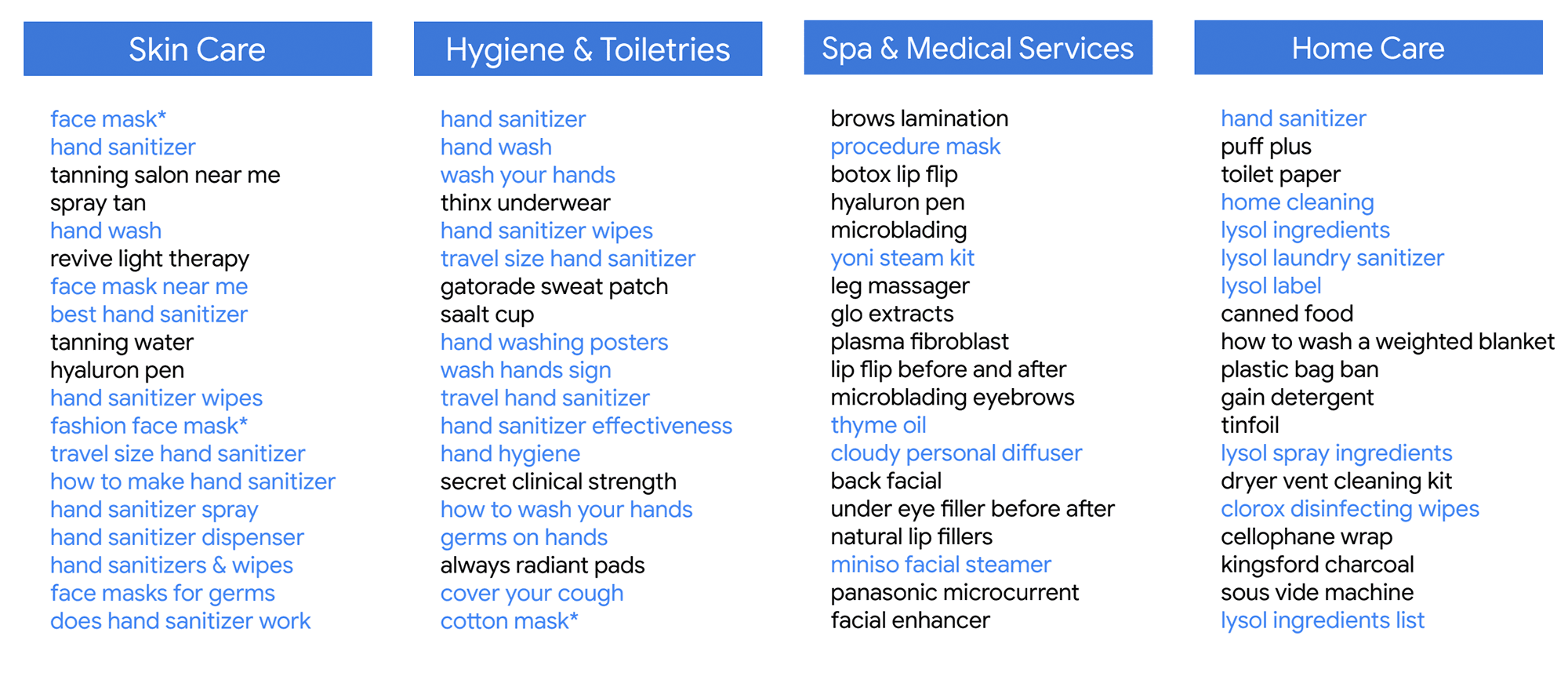 Face wipe interest has peaked in the past 30 days

Source : Google Trends
Dry hands interest rises as consumers become more focused on washing hands



Source : Google Trends

Interestingly, US Consumer interest shifts from natural antiseptics & ingredients to chemical antiseptics during crisis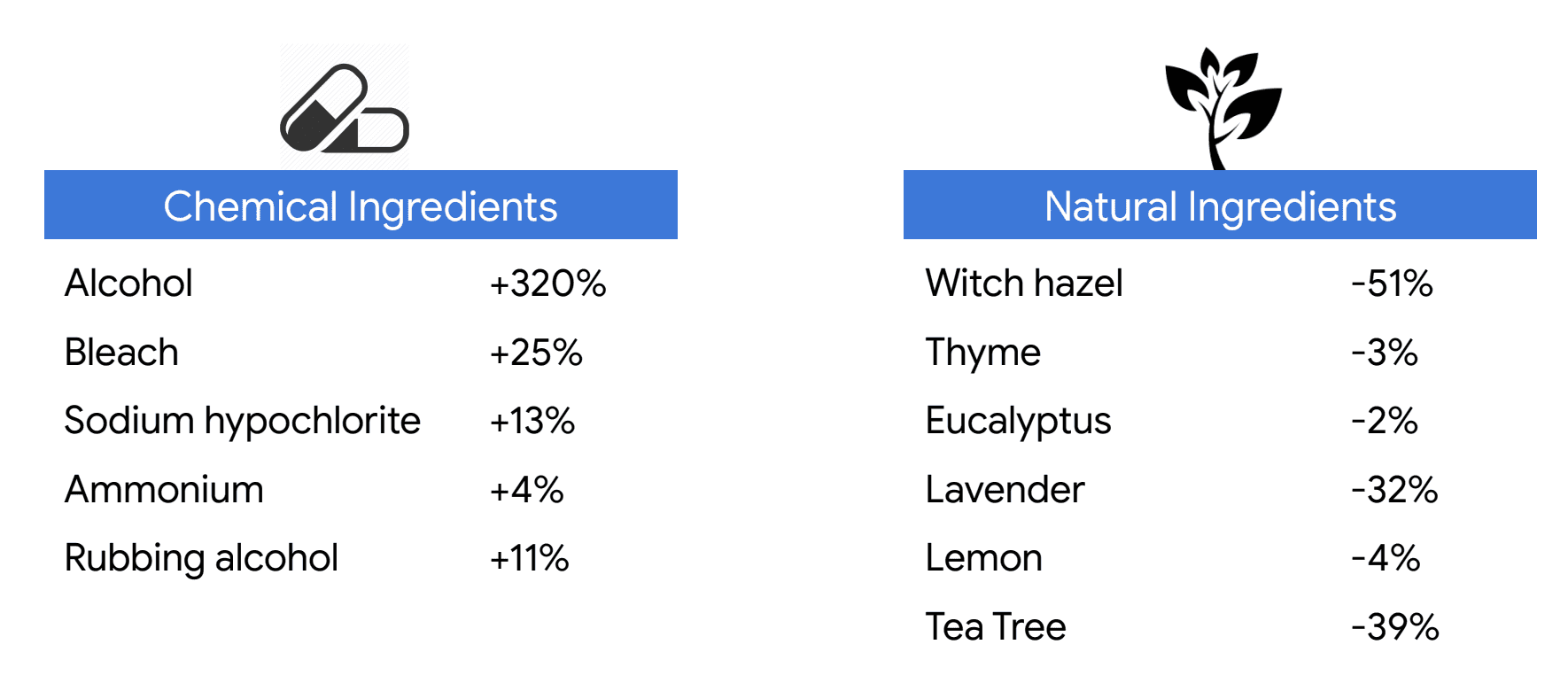 US consumers are leaning on products, services and cleansing to feel secure and in control during a time of uncertainty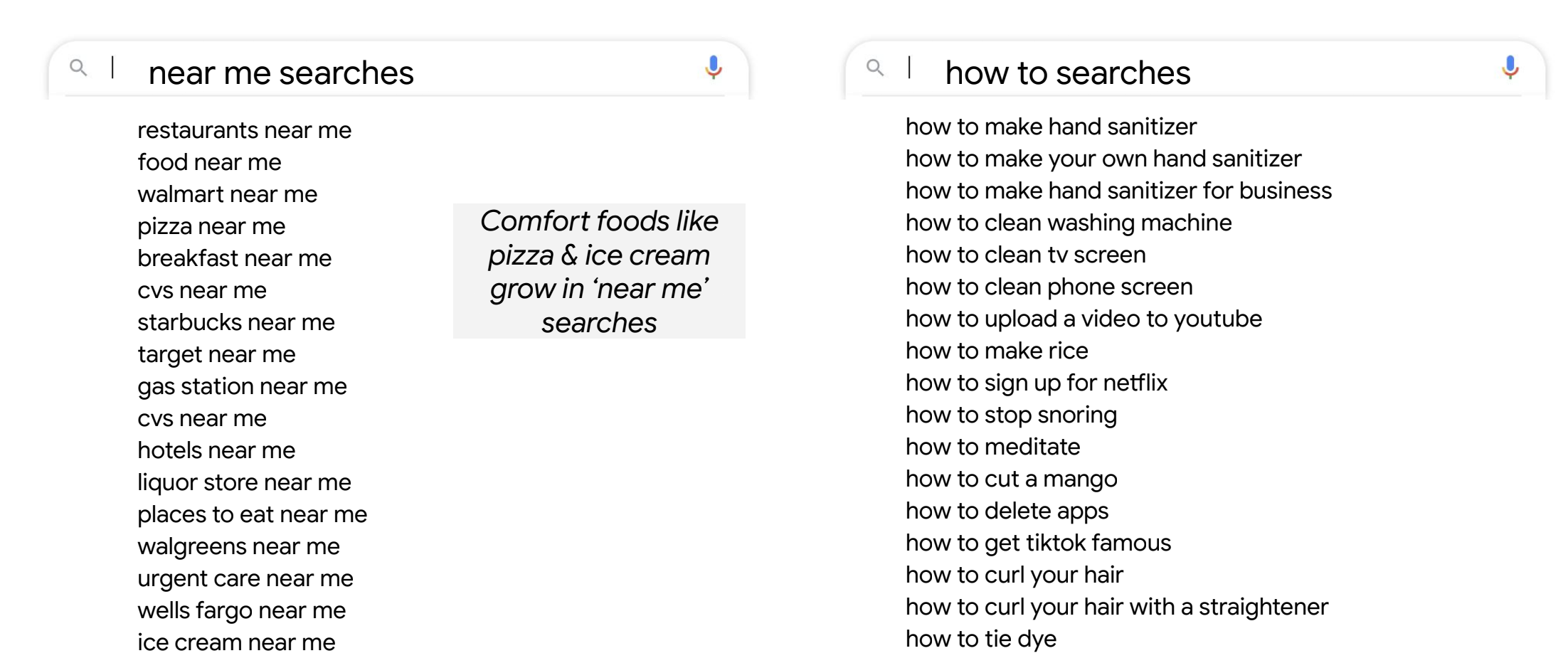 What should you do? Build your plan around human behavior.
Participate and add value when consumers are seeking information
1. Build a messaging strategy that responds to consumers in their 'now' mindset and answers their questions. It requires to revisit the content strategy to be aligned with current situation and adapt it accordingly. 
2. Clearly define what your brand can address now with intrinsic benefits. Given the situation, and map presence around those territories.
3. Scenario Plan for Increased Participation (outreach, custom content) and lock assets for push button activation.
Participate and add value when consumers are experiencing Routine Disruption
1. Many people have an elevated concern for their financial security in light of COVID-19.
How can we help ease consumer fears and ensure price sensitivity?
2. More people will stay indoors by choice or by force often in small spaces with extended family members.
How can we help consumers live fulfilling and meaningful days at home?
3. With government endorsing hand washing & immunity, there is an opportunity for wider formation of healthier habits.
How can we encode and reinforce healthier habits among our consumers?

Participate and add value when consumers are leaning on brands
1. User Experience : Improve higher index on helpfulness. If you haven't done any user experience research yet, you should start consider it now. 
You can also should consider displaying big packs, bulk buys, prices and ingredients online.
2. First Party Data : Assessment of current first party-data and provide tailored personalized offers. Preventive suggestions based on family size, budget, and practicality given the quarantine.
3. Better Products & Services : Adapt to changing times. For Product development, you should improve formulation for antibacterial or immunity features. For Service, you should improve service with health related enforcement.