เลือกอ่านหัวข้อที่คุณสนใจ
Customer Data Platform Benefits
Customer Data Platform can unlock brands' potential and solve sophisticated issues in many aspects. The three main benefits of CDP are as following:
1. Collect brand information altogether in one place
What tools does your brand collect customer data through? Can each tool share the data with each other? Do different parties (Sales, Social media, Call center) collect information on their own? Most marketers often face issues of scattered information with no sharing among all parties which block the marketers from seeing the insight or what customers really want.
Website traffic data is on Google Analytics
Email opening information is on Email delivery tools
Customer data such as purchase data, point of sale data, are stored separately in the CRM
Ads or campaign data is on Google or Facebook
All data needs to be collected in order to create a Customer Profile through the Customer Data Platform. Each platform has different methods of collecting data, different measurement and storing methods.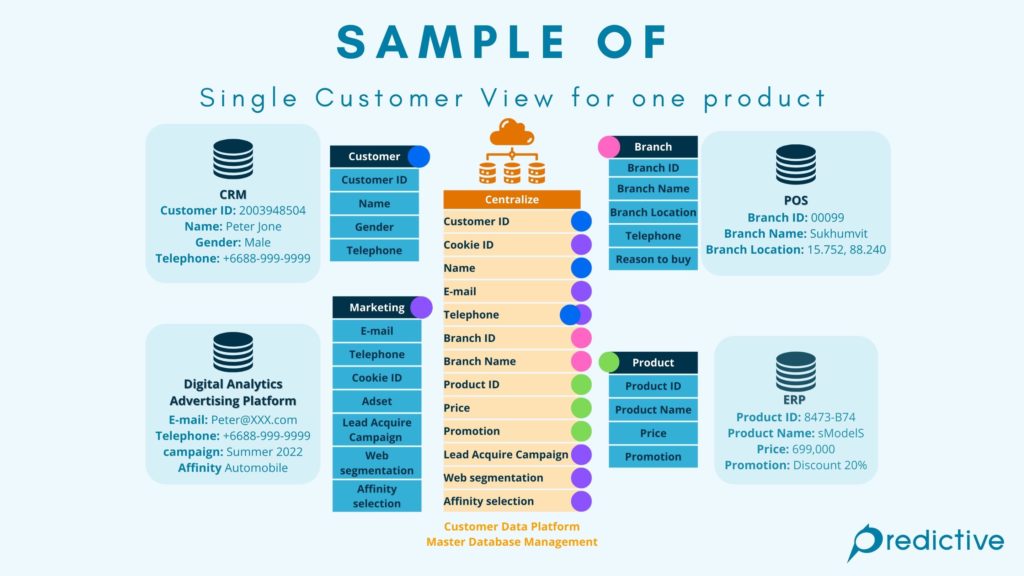 If brands could pull data from all tools and channels together in one place in CDP, marketers can see their customer as the same person throughout the whole journey (unique identifier). With this, marketers will clearly see customers in numerous perspectives such as what each person likes or dislikes, their online behaviors, their past purchased items, and make use of these insights for further marketing.
2. Help manage the data to be in accordance with PDPA or GDPR
In the age of Data Privacy, customers are concerned about what data the brand collects in its storage. Because of this issue, the brand must store the data which are consented by the customer ONLY. If the customer requests to delete the data, the brand must delete all the previously stored data as well as following other rules in PDPA or GDPR in order to maintain customer trust.
CDP can help brands solve Data Governance issues all in one place in which CDP ONLY collects information that customers have already given their consent to. If the customer does not consent to share his or her information, CDP will not collect information and send it to the storage that is connected to CDP.
3. Use data to create a good experience for customers
When CDP allows brands to collect only information that their customers have given their consent to, it is time for brands to use that information to benefit their business.
CDP offers a wide range of features such as segmentation, modeling, and many more in which brands can use these data sets in every tool such as email marketing, ad campaigns, to deliver a good experience for every single customer.
For example, if a brand needs to run a marketing activity in order to retain top tier customers who spend more than 5 million baht per year, marketers can create emails to instantly send gifts as a complimentary; or if brands want to increase sales on sports car, they can create a group of customers who like to read sports car content to offer a discount and launching the offer out to all marketing channels.
Case Study: Customer Data Platform
Customer Data Platform can be adapted to organizations of all sizes and all industries. To clarify the big picture, you can see the case study below.
1. Build Customer Loyalty to prevent customers from leaving the brand
CDP also allows brands to communicate with each segment to design experience and increase CLV. In the e-commerce and retail industry where there is a huge amount of customer purchase data, CDP can be connected to various marketing tools to market multiple channels at once. In cases where the brand wants to maintain 10% of top tier customers who spent the most, the brand can launch special campaigns that provide them special discounts or product testimonials before anyone else and much more.
When connecting Email Marketing Software (EMS) to CDP, brands can communicate this unique experience through EMS and gain data insights from EMS analytics (ex. who opened the email, who used the special discount coupon, etc.). All the data from EMS analytics will be delivered back to the CDP for deeper understanding of the customer profile, and can be used to optimize for better communication.
2. Create customer profiles similar to brand's target group
Data from CDP can be used to create customer profiles which are similar to the target that the brand is looking for. For example, if the brand has First Party Data of people who spend on high-priced jewelry items, this data can be used in the Ads Network in order for the system to find people who are similar to the target group the brand wants. The system analyzes information such as address, income, occupation, which allows brands to reach new customers with common behaviors.
3. Design a good experience for each customer
According to a survey from Accenture, more than 93% of customers still want personalized brand experience such as launching ads with personalized offers. CDP can help brands collect customer data, build profiles. and create a personalized experience for customers to increase engagement, conversion rate and much more.
Example from E-Commerce / Retail
Use past purchased behavior data (such as information about current products in the cart, products that have been clicked for details) to analyze and present products that customers may not have imagined before to increase Click Through Rate (CTR). For example, Mr. A decides to go to ABC Shop to buy a notebook; if ABC Shop uses CDP, it can offer additional products such as keyboards and mouse pens, Mr. A may think that is something everyone uses. On the other hand, if a brand has multiple SKUs, the brand will analyze and look for products that are often bought together as a pack which would be more difficult since it requires huge amounts of data to be presented to individual customers.
Examples from Online Media
If you are online media, you aim for more users to read the news and receive more engagement. Therefore, the media must know what kind of content each reader likes, what topics, and how they behave on websites and apps. The information is inserted into the CDP to create individual reader profiles. When readers press to read the news, they will only find content that they are interested in. Because the CDP is connected to Google Optimize, the homepage is different according to the preferences and behavior of that reader. For example, Mr. Robert clicks on the website and automatically sees the investment news at the top without having to scroll down to find news at the end of the page to waste his time.
After reading this, we hope our dear readers and marketers enjoy our article and can make use of what we shared. For any further questions or assistance needed on CDP or any data-related topics, please do not hesitate to reach us.